Xpress Money has enhanced its alternate payment channels "Cash To Card" services in India, so as to leverage on their product offerings and acquire larger market share with the latest technological additions to the co-branded card service (In partnership with Punjab National Bank, ICICI Bank & State Bank of India)
KEY FEATURES OF THIS CASH TO CARD SERVICE
Convenience – Beneficiary does not require any bank account in India to receive money. Using this Cash-To-Card service, funds can be directly credited to registered remittance card issued by the affiliate bank.
Customer friendly – Beneficiary can withdraw these funds at their own convenience through ATM's across India. Beneficiary can store these funds on their remittance card or use at any Point-Of-Sale service terminals for shopping needs. The beneficiary's cash is safe as it is protected by a secure PIN, whereby only the registered customer will be able to access the funds.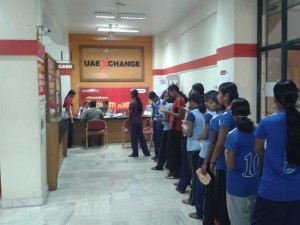 One-time beneficiary registration process at any location of UAE Exchange Financial Services in India.
5. Transaction Limits – Any beneficiary/remittance card holder can receive a total of 30 transactions in a calendar year and maximum amount of Rs.50,000 per transaction. The card can hold only INR50000 at any given point.
6. Tracking – Since the amount is loaded to card, tracking of transactions is possible for the Bank and the Customer.
To use this service please visit money transfer shop (Arc Services)  in ILAC Shopping Centre in Dublin 1. Note: Beneficiary should register for this card first at any location of UAE Exchange Financial Services in India.
To check exchange rates and services charges please visit our page:  Money Transfer to India page updated everyday